Kaabu y Fulaadu: Historias polifónicas y pasados plurales
Paraules clau:
Casamance (Senegal, África), historia oral, arqueología, memoria múltiple, metodologías participativas
Resum
En este artículo considero algunas de las cuestiones que emergen del uso de fuentes múltiples y diversas a la hora de estudiar el pasado mediante una metáfora musical. Exploro tres posibles relaciones entre fuentes con grados crecientes de dificultad conceptual (unísono, consonancia y disonancia) y argumento que las disonancias no deben de ser ignoradas o dejadas de lado. Al contrario, poner el foco en los elementos disonantes puede a menudo revelar fallos en nuestras herramientas conceptuales y destacar procesos multidimensionales y tensiones históricas que llevan a comprensiones más ricas, complejas, y precisas del pasado, así como a una mejor apreciación de su uso en el presente. Finalmente, argumento que es importante ser conscientes de nuestros privilegios como 'escritores de historia' con capacidad para elegir a qué voces se les da prioridad en este proceso y cuales tienen un lugar secundario, y sugerido una serie de medidas para mitigar este desequilibrio. 
Descàrregues
Les dades de descàrrega encara no estan disponibles.
Referències
Alvares de Almada, A. (1964) [1594]. Tratado Breve dos Rios de Guiné do Cabo Verde. LIAM.
Amselle, J.-L. (2011). L'Afrique a-t-elle «inventé» les droits de l'homme? Syllabus Review 2(3), 446-63.
Bertrand Bocandé, E. (1849). Sur la Guinée Portugaise ou Sénégambie Méridionale. Bulletin de la Société de Géographie 11, 265-350.
Burke, P. (2010). Cultural History as Polyphonic History. Arbor 743, 479-486.
Burke, P. (1997). Varieties of Cultural History. Cornell University Press.
Canós-Donnay, S. (2022). Shifting Sedentism in West Africa. Oxford Research Encyclopedia of African Archaeology.
Canós-Donnay, S. (2017). Arqueología de La Alta Casamance, Senegal: Una Primera Aproximación. Dins M. Sahouni, S. Semaw i J. Rios-Garaizar (Eds.) Actas de Las II Jornadas de Prehistoria Africana (pp. 598–622). CENIEH.
Canós-Donnay, S. (2016a). Territories, fortresses, and shifting towns: archaeological landscapes of the Upper Casamance (Senegal), 7th-19th C. (Tesi doctoral no publicada). University College London.
Canós-Donnay, S. (2016b). Shifting sedentism in the Upper Casamance (Senegal). Azania: Archaeological Research in Africa Azania, 51(4), 453-68.
Cissoko, S.M. (1972). Introduction à l'histoire des Mandingues de l'Ouest; l'empire de Kabou (XVIè-XIXè siècle). Proceedings of the Conference on Manding Studies. SOAS.
Cissoko, S.M. (1981). De l'organisation politique du Kabu. Ethiopiques, 29.
Delafosse, M. (1912). Haut-Sénégal-Niger II. Emile Larose.
Donelha, A. (1977). Descriçao de Serra Leoa e dos rios de Guiné do Cabo Verde (1625). Junta de Investigaçoes Científcas do Ultramar.
Fanchette, S. (1999). Migrations, intégration spatiale et formation d'une société peule dans le Fouladou (haute Casamance, Sénégal). Dins R. Botte, J.Boutrais i J. Schmitz (Eds.). Figures Peules (pp. 165–192). Karthala.
Hecquard, H. (1853). Voyage sur la Cote et l'Intérieur de l'Afrique Occidentale. Bernard et Co.
Inwood, J. (2014). Skeletal Analysis Project: Kolda 2013 (Informe no publicat).
Lawson, A. (2003). Megaliths and Mande states: sociopolitical change in The Gambia valley over the past two millennia (Tesi no publicada). University of Michigan.
Lopes, C. (1990). 'Relaçoes de poder numa sociedade malinké: O Kaabu do séc. XIII ao séc. XVIII. Soronda, 10, 17-26.
Monteil, C. (1929). Les empires du Mali. Bulletin du Comité d'Études Historiques et Scientifiques de l'Afrique Occidentale Française, 6, 291-447.
Niane, D.T. (1989). Histoire des Mandingues de l'Ouest. Khartala. Phillost Almeida, R. (1980). An outline history of Pachesi drawn from oral traditions. Unpublished paper presented at The First International Kaabu Colloquium, Dakar.
Sidibe, B.K. (1972). The story of Kaabu: its extent. Dins Proceedings of the Conference on Manding Studies. SOAS.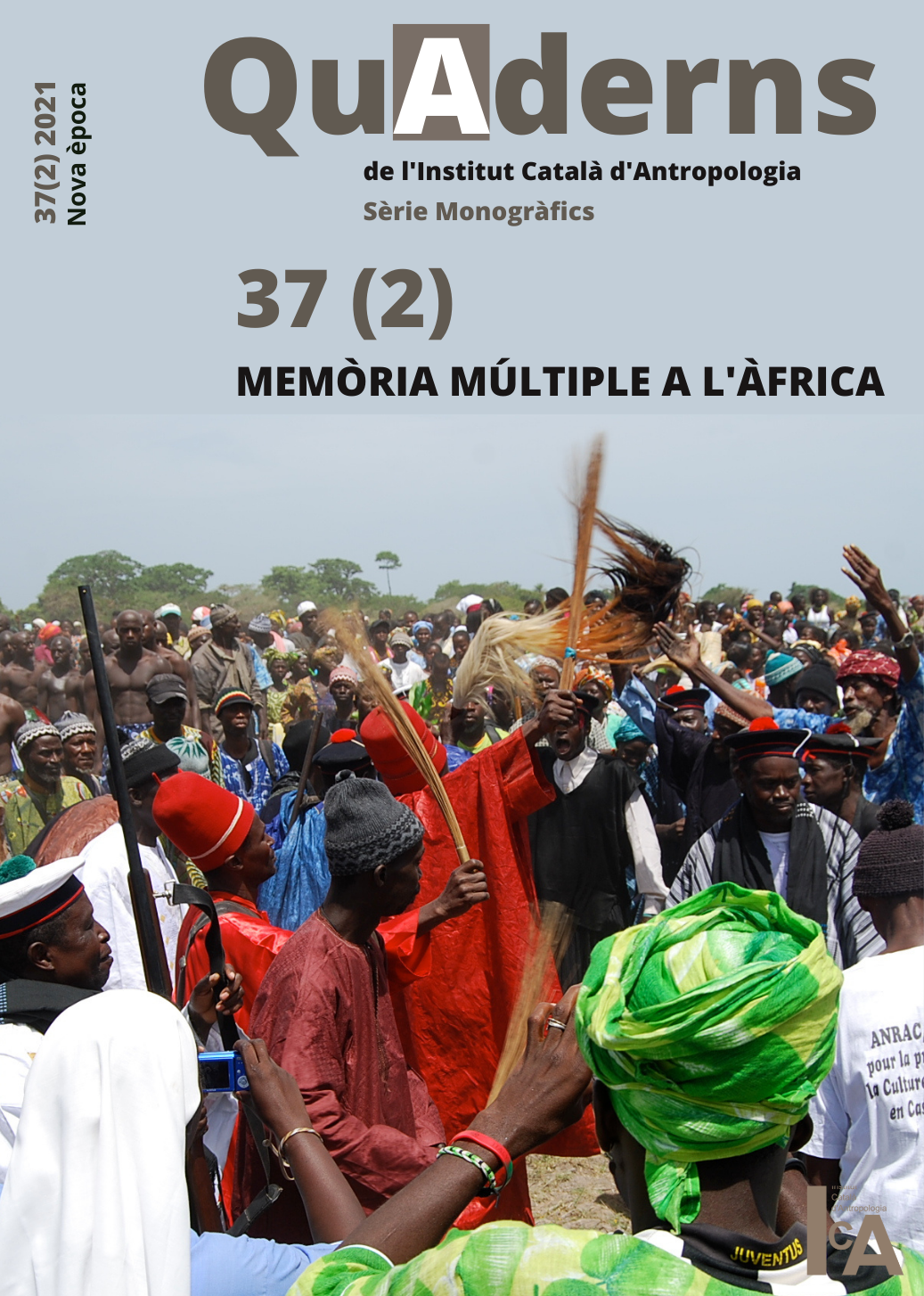 Descàrregues
Com citar
Canós-Donnay , S. (2022). Kaabu y Fulaadu: Historias polifónicas y pasados plurales. Quaderns De l'Institut Català d'Antropologia, (37 (2), 363–381. https://doi.org/10.56247/qua.369
Secció
PART 3. MEMÒRIA PROFUNDA