La invención del espacio público como espacio moral
Paraules clau:
espacio público, ciudadanía, participación, calle, espacio social
Resum
El concepto de espacio público aparece hoy como central a la hora de referirse a los exteriores urbanos por parte de los especialistas en ciudad en general, tanto si se pronuncian desde las ciencias sociales como si lo hacen desde las disciplinas tecnológicas, el diseño, la arquitectura, el urbanismo, o desde los discursos oficiales en materia de gobernabilidad. En realidad, ese concepto, tomado de la filosofía política, sirve desde hace relativamente poco —años 1990— para nombrar lo que antes se había designado como lugar público o sencillamente calle. Cargado de connotaciones ideológicas, espacio público es una de las categorías-fetiche en que se basan los discursos arquitectónicos, urbanísticos y de gobernabilidad y es clave en la actual revalorización al mismo tiempo mercantil y moral de los huecos urbanos, en el marco de las grandes dinámicas de apropiación capitalista de las ciudades.
Descàrregues
Les dades de descàrrega encara no estan disponibles.
Referències
Adamkiewicz, E. (2019). La rue. Toulouse Presses de la Université de Toulouse Midi.
Ajuntament de Barcelona (2005, diciembre 15) Ordenanza de medidas para fomentar y garantizar la convivencia ciudadana en el espacio público de Barcelona. Recuperado el 21 julio 2023, de https://tinyurl.com/bdfw779m
Arendt, H. (2020 [1958]). La condición humana (6a. ed.), Planeta.
Betin, C. (2001). La construction de l'espace public. Le cas de Lyon. Géocarrefour, 76(1), 47-54. DOI: https://doi.org/10.3406/geoca.2001.2505
Bourdieu, P. (1993). À propos de la famille comme catégorie réalisée. Actes de la recherche en sciences sociales, 100(1), 32-36. DOI: https://doi.org/10.3406/arss.1993.3070
Brody, J. (2005). La rue, Presses Universitaires du Mirail.
Camerin, F. (2023). Urban Governance in Post-pandemic Barcelona: A Superblock-Based New Normal?. En E. Lissandrello, J. Sørensen, K. Olesen y R. N. DOI: https://doi.org/10.1007/978-3-031-32664-6_22
Steffansen (Eds.). The 'New Normal' in Planning, Governance and Participation: Transforming Urban Governance in a Post-pandemic World (pp. 287-299). Springer International Publishing.
Camp, L.J. (2000). The internet as public space: concepts, issues, and implications in public policy, Computers and Society, 30(3), 13-19. DOI:10.1145/572241.572244 DOI: https://doi.org/10.1145/572241.572244
Cefaï, D., y Joseph, I. (2002). Introduction. En D. Cefaï e I. Joseph (Coords). L'Héritage du pragmatisme. Conflits d'urbanité et épreuves de civisme (pp. 4-14), L'Aube.
Delgado, M. (2017). El espacio público como ideología (2a. ed.). Los Libros de la Catarata.
Delgado, M. (2023). The ideology of public space and the new urban hygienism: Tactical urbanism in times of pandemic. En F. Carrión y P. Cepeda (Coords.). Urbicide. The Death of the City (pp. 122-145). Springer. DOI: 10.1007/978-3-031-25304-1 DOI: https://doi.org/10.1007/978-3-031-25304-1
Debarbieux, B. (2020, mayo 4). Le confinement-cloisonnement au temps du Covid 19, Cybergeo: European Journal of Geography. Recuperado 21 julio 2023 de http://journals.openedition.org/cybergeo/34722
Duby, G., y Ariés, Ph. (Coords.). (2001 [1985]). Historia de la vida privada. Taurus, 4 vols.
Esteban Noguera, J. (2011). La ordenación urbanística: conceptos, herramientas y prácticas. Universitat Politècnica de Catalunya. DOI: https://doi.org/10.5821/ebook-9788476537497
Ferry, J.-M., Volton, D., et al, (1992). El nuevo espacio público. Gedisa.
Finkielkraut, A. (1978). Le devoir de transparence, Les Temps Modernes, XXXIII (378), 993-1001.
Foucault, M. (1990 [1975]). Vigilar y castigar. Nacimiento de la prisión. Siglo XXI.
Gorelik, A. (2008). El romance del espacio público. Alteridades 18(36), 33-45. https://tinyurl.com/2s4y83ww
Goffman, E. (1994 [1971]). Relaciones en público. Microestudios de orden público. Alianza.
Habermas, J. (2004 [1974]). Historia y crítica de la opinión pública. La transformación estructural de la vida pública (2a. ed.). Gustavo Gili.
Harvey, D. (2008). París, capital de la modernidad (Vol. 53). Ediciones Akal.
Korosek-Serfaty, P. (1995). Le inscription de l'étrangeté et de la diférence dans l'espace publique. En I. Joseph (ed.), Prendre place. Espace publique et culture dramatique (pp. 221-233). Recherches-Plan Urbain.
Jacobs, J. (2023 [1961]). Mort i vida de les grans ciutats. Virus.
Jasiński, A. (2020). Public space or safe space: remarks during the COVID-19 pandemic, Technical Transactions, 117(1). https://doi.org/10.37705/TechTrans/e2020020 DOI: https://doi.org/10.37705/TechTrans/e2020020
Low, S.; Smart, A. (2020). Thoughts about Public Space During Covid-19. City & Society, 32(1). https://doi.org/10.1111/ciso.12260 DOI: https://doi.org/10.1111/ciso.12260
Puente, A., y Galvín, A. (2018, agosto 20). Los juzgados no consideran ilegal colocar lazos amarillos en espacios públicos (pero tampoco quitarlos). el.Diario.es. Recuperado el 21 julio 2023, de https://tinyurl.com/43kfthnc
Joseph, I.; Battegay, A., y Fritsch, Ph. (1979). Disciplines à Domicile, les dispositifs normalisation de la famille. Recherches.
Joseph, I. (dir.). (1991). L'Espace du public. Les compétences du citadin. Recherches-Plan Urbain.
Joseph, I. (1995). Espace public et culture dramatique. Recherches-Plan Urbain.
Larsen, S.E. y Petersen, A.B. (1997). La rue, espace ouvert, Odense University Press.
Lefebvre, H. (2013 [1974]). La producción del espacio (2a. ed.). Capitán Swing.
Lefebvre, H (2017 [1968]). El derecho a la ciudad. Capitán Swing.
Leménorel, A. (1997). La rue, lieu de sociabilité? Université de Rouen.
Lofland, J. (1973). A Word of Strangers. Order and Action in Urban Public Space. Prospect Heights.
Lofland, L. H. (1998). The Public Realm. Exploring the City's Quintessential Social Territory. Aldine de Gruyter.
Lofland, J. y L.H. Lofland (1999 [1971]). Analyzing Social Settings. A Guide to Qualitative Observation and Analysis. Wadsworth Publishing
Martín Retortillo, L. (1970, enero). Salamanca: la violencia urbanística, Cuadernos para el Diálogo, 76, 40-41.
Mogilevich, M. (2020). The invention of public space: Designing for inclusion in Lindsay's New York. University of Minnesota Press. DOI: https://doi.org/10.5749/j.ctv15d8132
Pétonnet, C. (1968). Ces gens-là. François Maspero.
Pétonnet, C. (2012 [1985]). On est tous dans le brouillard : essai d'ethnologie urbaine. Éditions du CTHS.
Remy, J. (1998 [1990]). La ville cosmopolite et la coexistence inter-ethnique. En J. Remy, Sociologie urbaine et rural. L'espace et l'agir (pp. 171-187). L'Harmattan.
Rowe, C., y Koetter, F. (1998 [1978]), Ciudad collage. Gustavo Gili.
Rudofsky, B. (1982 [1966]). Streets for People: A Primer for Americans (2a. ed). Van Nostrand Reinhold Co.
Santamaria, E., y de la Haba, J. (2004). De la distancia y la hospitalidad: consideraciones sobre la razón espacial. Athenea Digital: Revista de Pensamiento e Investigacion Social, (5), 124-134. https://www.ssoar.info/ssoar/handle/document/6489
Sennett, R. (1975 [1970]. Vida urbana e identidad personal. Península.
Sennett, R. (1980). La Famille contre la ville: les classes moyennes de Chicago à l'ère industrielle: 1872-1890. Recherches.
Sennett, R. (2011 [1974]). El declive del hombre público (2a. ed.). Anagrama.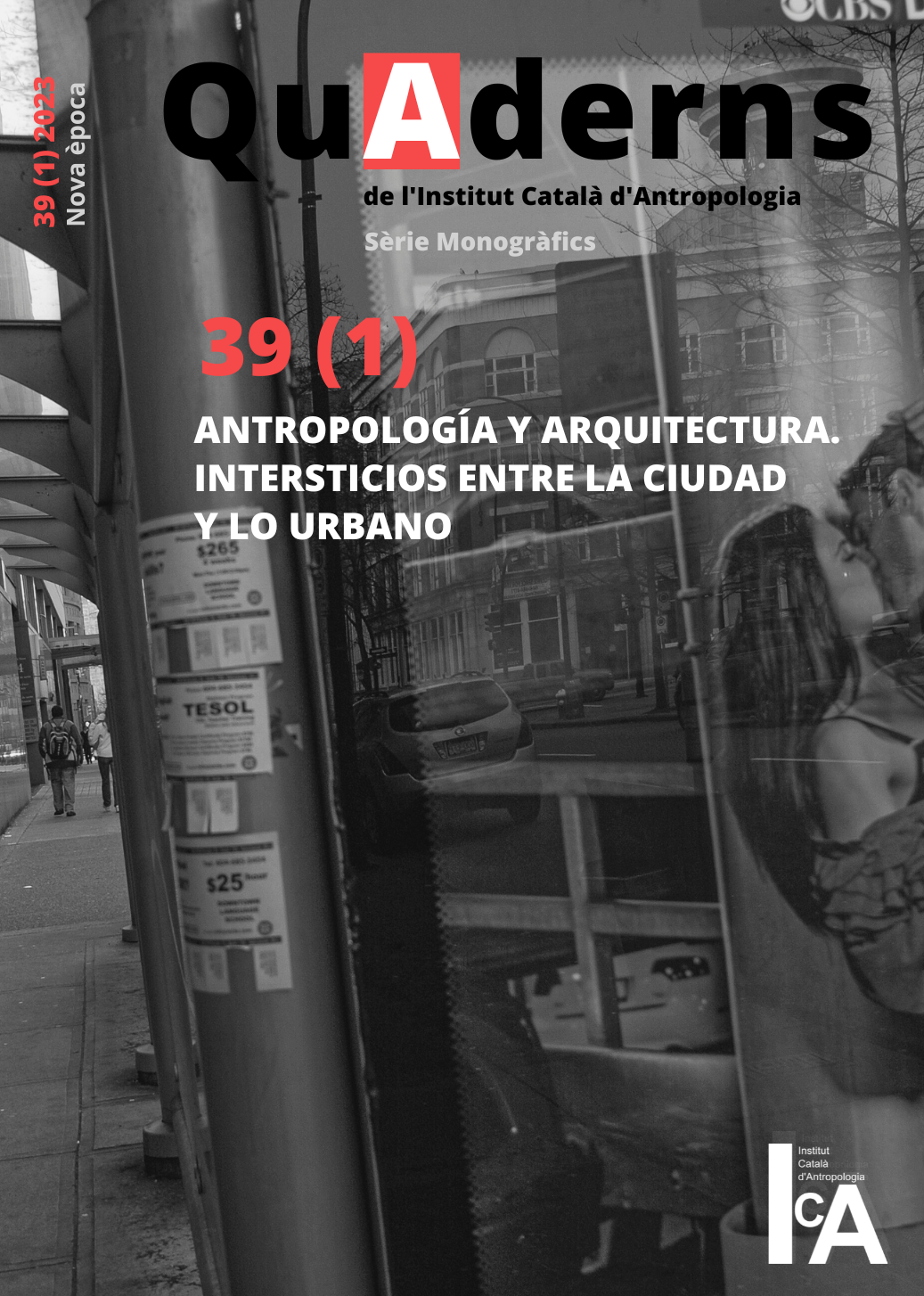 Descàrregues
Com citar
Delgado, M. (2023). La invención del espacio público como espacio moral. Quaderns De l'Institut Català d'Antropologia, 39(1), 27–39. https://doi.org/10.56247/qua.409