L'acollida "on the move" de la infància i joventut que migra sola a Catalunya. Una visió des dels i les professionals
Paraules clau:
acollida, infància i joventut que migra sola, infància en moviment, in­tervenció socioeducativa, mobilitats
Resum
Els processos d'acollida del sistema de pro­tecció a la infància esdevenen el punt inicial de l'acompanyament de la infància i joven­tut que migra sola i del desenvolupament posterior dels seus itineraris socioeduca­tius. Mitjançant entrevistes semiestructura­des, s'ha recollit la visió de 15 educadors i educadores de diferents centres, recursos i organitzacions del sistema de protecció de Catalunya desplegats, principalment, amb l'Estratègia catalana per a l'acollida i la inclusió. Els resultats dibuixen un sistema d'acollida protocol·litzat que es mou en una "doble bipolaritat normativa" com a "menors susceptibles de protecció" i, a la vegada, com a subjectes de control migratori. L'anàlisi de l'experiència viscuda per aquesta infància des de la visió de les i els professionals que els acompanyen posa de relleu situacions de mobilitat i immobilitat múltiples i permet entreveure els significats ocults i atribuïts de la seva materialització. Mentre transiten pel sistema d'acollida es troben amb nombroses "portes" que re­forcen l'efecte embut condicionant els seus itineraris i traduint-se, en masses ocasions, en situacions d'exclusió. Des de l'atenció socioeducativa es conclou que l'acollida ha de possibilitar la construcció de vincles per ressituar-la, dignificar-la i entendre les rela­cions de poder que la condicionen.
Descàrregues
Les dades de descàrrega encara no estan disponibles.
Referències
Abderrahman, J. M., Ruiz, F. i Vilà, R. (2018). Historia de vida de un menor extranjero no acompañado de Melilla. https://dialnet.unirioja.es/servlet/articulo?codigo=6751923 Modulema: Revista científica sobre diversidad cultural, 2, 86-112.
ACNUDH (Oficina de l'Alt Comissariat de les Nacions Unides) (2016). Principios recomendados para orientar las acciones relativas a los niños en tránsito y otros niños afectados por la migración. Nacions Unides. http://principlesforcom.jimdo.com
Benavent, E. (2013). Espiritualidad y educación social. UOC.
Bhabha, J. (2019). Children on the move in the twenty-first century. Developing a rightsbased plan of action. Dins Suárz-Orozco, M., Humanitarianism and mass migration. Confronting the world crisis (pp. 83-98). University of California Press & Ross Institute.
Bluebond-Langner, M. i Korbin, J. E. (2007). Challenges and opportunities in the anthropology of childhoods: An introduction to "children, childhoods, and childhood studies", American Anthropologist, 109 (2), 241-246. https://doi.org/10.1525/aa.2007.109.2.241
Bowlby, J. (2011). El apego y la pérdida. Paidós.
Bravo, A. i Santos-González, I. (2017). Menores extranjeros no acompañados en España: necesidades y modelos de intervención. Psychosocial Intervention, 26, 55-62 https://doi.org/10.1016/j.psi.2015.12.001
Butler, J. (2010). Marcos de guerra. Las vidas lloradas. Paidós.
Calvo, F. i Shaimi, M. (2020). Salut mental, sensellarisme i vulnerabilitat de joves extutelats, Educació Social. Revista d'Intervenció Socioeducativa, 75, 117-144.
Carrasco, S., Pàmies, J. i Ponferrada, M. (2011). Fronteras visibles y barreras ocultas: la experiencia escolar del alumnado marroquí en Cataluña y mexicano en California, Revista Migraciones, 29, 31-60.
Cebolla, H. i Requena, M. (2010). Marroquíes en España, los Países Bajos y Francia: gestión de la diversidad e integración. Real Instituto Elcano. https://media.realinstitutoelcano.org/wp-content/uploads/2021/12/ari11-2010-cebolla-requena-marroquies-diversidad-integracion-1.pdf
Cyrulnik, B. (2006). Los patitos feos: la resiliencia. Una infancia infeliz no determina la vida. Gedisa.
Departament de Treball, Afers Socials i Famílies (2021). Estratègia catalana per a l'acollida i la inclusió dels infants i joves emigrats sols. Generalitat de Catalunya.
Empez, N. (2020). Creciendo y viendo crecer: Trabajando como Educadora Social con jóvenes migrados, RES, Revista de Educación Social, 30, Enero-Junio, 96-106.
García Castaño, F. J., Megías Megías, A. i Ortega Torres, J. (eds.), Actas del VIII Congreso sobre Migraciones Internacionales en España (Granada, 16-18 de septiembre de 2015) (pp. S16/106-S16/120). Instituto de Migraciones
Gilligan, C. (2014). Moral injury and the ethic of care: reframing the conversation about differences, Journal of Social Philosophy, 45 (1), 89-106.
Glick-Schiller, N. i Salazar, N. B. (2013). Regimes of Mobility Across the Globe, Journal of Ethnic and Migration Studies, 39 (2), 183-200. https://doi.org/10.1080/1369183X.2013.723253
Gómez Mundó, A. (2012). Sabers i sentits de l'educació social. Sostenir l'ofici. Editorial UOC.
Gutman, L. (2009). La revolución de las madres. Integral.
Ioannidis, P., Dimou, E. i Dadusc, D. (2021). Sappers of Fortress Europe: Exploring the Micropolitics of Borders through the Occupational Culture of Asylum Caseworkers in Greece. Journal of Ethnic and Migration Studies, 47 (15): 3641-3659. https://doi.org/10.1080/1369183X.2021.1873114.
Kohli, R. (2006). The sound of silence: Listening to what unaccompanied asylum seeking children say and do not say. British Journal of Social Work, 30, 707-721.
Marco, E. (2017). Dispositivos de control y reproducción de desigualdades en la intervención con jóvenes migrantes, RASE, Revista de la Asociación de Sociología de la Educación, 10 (1), 50-63. https://doi.org/10.7203/RASE.10.1.9268
Martínez, O. (2020). Habitar recursos residenciales. Trabajar donde el otro está viviendo. UOC.
Martín-Palomino, E. (2012). Las migraciones de menores no acompañados desde una perspectiva de género, Dilemata, 10, 65-84.
Meirieu, P. (2001). La opción de educar: ética y pedagogía. Octaedro.
Mels, C., Derluyn, I. i Broekaert, E. (2008). Social support in unaccompanied asylum-seeking boys: A case study, Child: Care, Health and Development, 34, 757-762.
Patton, M. Q. (1990). Qualitative evaluation and Research Methods. Sage.
Peláez, P. (2018). El estado de la cuestión sobre los derechos de los MENAS en España: entre la protección y el abandono, RES, Revista de Educación Social, 27, Julio-Diciembre, 48-70.
Perazzo, C. i Zuppiroli, J. (2018). Los más solos. Save the Children.
Perelló, M. I. (2015). Política migratoria en la frontera sur de España con Marruecos: sus consecuencias y el papel de las organizaciones de la sociedad civil, dins García Castaño,
Sánchez-Rincón, N. (2020). La acogida en educación como principio esencial para el encuentro con el otro, Revista de Investigaciones UCM, 20 (35), 24-38.
Sassen, S. (2014). Expulsions: Brutality and Complexity in the Global Economy, Cambridge: Belknap Press.
Sheller, M. i Urry, J. (2006). The new mobilities paradigm, Environment and Planning A, 38 (2), 207-226.
Suárez, L. (2004). Niños entre fronteras: migración de menores no acompañados en el mediterráneao occidental, Migración y Desarrollo, 2, 35-48.
Vieira, A., Marques, J. C., Prata, M. i Vieira, R. (2017). The inclusion of the other in ourselves: reception and comprehension of refugees in Portugal. Intercultural Education, 28 (2), 196-205. https://doi.org/10.1080/14675986.2017.1308658
Vilà, R., Freixa, M., Sánchez, A., Massot, I. i Ruiz, F. (2020). Los mal llamados "Menores extranjeros no acompañados" (MENA) en Barcelona desde la visión de las y los educadores. Dins, C. Peréz. et al., La convivencia escolar: un acercamiento multidisciplinar a las nuevas necesidades (pp. 107-118). Dykinson.
Venceslao, M. i Marí, R. (2021) Intervención educativa en centros de justicia juvenil. Una aproximación a sus discursos y prácticas, Pedagogía Social. Revista Interuniversitaria, 38, 181-193. DOI: 10.7179/PSRI_2021.38.12
Vinaixa, M. (2019). La mayoría de edad: un mal sueño para los menores extranjerosno acompañados. Cuadernos de derecho transnacional, 11 (1), 571-602. https://doi.org/10.20318/cdt.2019.4633
Wade, J., Sirriyeh, A., Kohli, R. i Simmonds, J. (2012). Fostering unaccompanied asylum-seeking young people: creating a family life across a 'world of difference'. BAAF Adoption and Fostering.
Wal Pastoor, L. de (2017). Reconceptualising refugee education: exploringthe diverse learning contexts of unaccompanied young refugees upon resettlement. Intercultural Education, 28 (2), 143-164. https://doi.org/10.1080/14675986.2017.1295572
Westwood, J. L. (2012). Constructing risk and avoiding need: Findings from interviews with social workers and police officers involved in safeguarding work with migrants childrens. Child Abuse Review, 21, 349-361.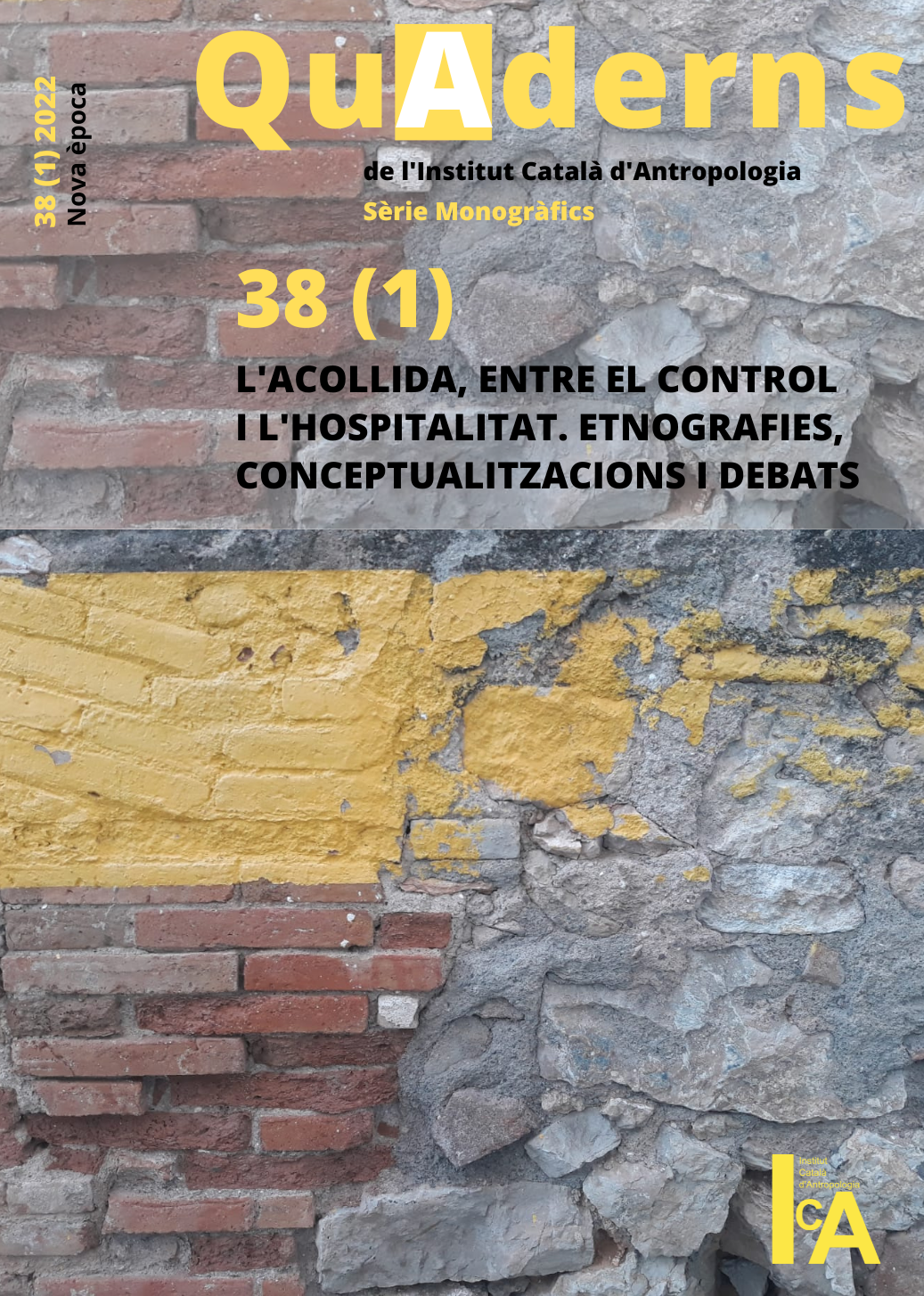 Descàrregues
Com citar
Freixa, M. ., Sànchez, A., Venceslao, M. ., & Vilà, R. . (2022). L'acollida "on the move" de la infància i joventut que migra sola a Catalunya. Una visió des dels i les professionals. Quaderns De l'Institut Català d'Antropologia, (38 (1), 97–118. https://doi.org/10.56247/qua.396