L'acollida, entre el control i l'hospitalitat. Etnografies, conceptualitzacions i debats
Descàrregues
Les dades de descàrrega encara no estan disponibles.
Referències
ACNUR (2022) Sin la solidaridad internacional, la crisis del desplazamiento de Ucrania podría convertirse en una catástrofe. [En línia] https://www.acnur.org/noticias/press/2022/3/623d31534/sin-la-solidaridad-internacional-lacrisis-del-desplazamiento-de-ucrania.html
Agier, M. (2016) L'hospitalité aujourd'hui. Colloque de rentrée "Migrations, réfugiés et exil" Collège de France
Ataç, I. Rygiel, K. i Stierl, M. (2016). "Introduction: The Contentious Politics of Refugee and Migrant Protest and Solidarity Movements: Remaking Citizenship from the Margins". Citizenship Studies 20 (5) pp. 527-544. https://doi.org/10.1080/13621025.2016.1182681.
Barth, F. (ed) (1969). Ethnic Groups and Boundaries: The Social Organization of Cultural Difference. Londres: Allen & Unwin.
Dadusc, D., & Mudu, P. (2020). Care without Control: The Humanitarian Industrial Complex and the Criminalisation of Solidarity. Geopolitics, 1-26. https://doi.org/10.1080/14650045.2020.1749839
Duyvendak, J. W. (2011). The Politics of Home. Belonging and Nostalgia in Western Europe and the United States. Londres: Palgrave Macmillan https://doi.org/10.1057/9780230305076
Fassin, D. (2007). Humanitarianism as a Politics of Life. Public culture, 19(3), 499-520.
Galaz, C i Montenegro, M. (2015). "Gubernamentalidad y relaciones de inclusión/ exclusión: los dispositivos de intervención social dirigidos a mujeres inmigradas en España". Universitas Psychologica 14 (5) pp. 1667-80. https://doi.org/10.11144/Javeriana.up14-5.grie.
Garcés Mascareñas, B. i Pasetti, F. (2019). ¿A más solicitudes de asilo igual recepción? El sistema estatal de acogida en España desde 2015. Anuario CIDOB de La Inmigración, 2019, 114-126. https://doi.org/10.24241/AnuarioCIDOBInmi.2019.114.
Glick Schiller, N. i Salazar, N.B. (2013). Regimes of mobility across the globe. Journal of ethnic and migration studies, 39(2), pp. 183-200.
Grup Enciclopèdia (2019). Acollir [1 def.] al Gran diccionari de la llengua catalana. Consultat, 06 setembre, 2019 a https://www.diccionari.cat/GDLC/acollir
Hage, G. (1998). White Nation: Fantasies of White Supremacy in a Multicultural Society. Annandale i West Wickham: Pluto Press/Comerford and Miller.
Hombert, L. (2021). Welcoming meaning(s): values circulation between citizens and institutions about migrants' reception in Barcelona. GRTIM Working Paper Series. http://hdl.handle.net/10230/48556.
Isin, E. F. i Turner, B.S. (2007). "Investigating Citizenship: An Agenda for Citizenship Studies". Citizenship Studies 11 (1) pp. 5-17. https://doi.org/10.1080/13621020601099773.
Jubany, O. i Rué, A. (2020). The (Dis)order of the Spanish Asylum Reception System. En O. Sacramento, E. Challinor, & P. Gabriel-Silva (Eds.), Quest for Refuge: Reception Responses from the Globar Noth (pp. 149-169). Ribeirao: Ediçoes Húmus.
Laclau, E. i Mouffe, C. (1987). Hegemonía y estrategia socialista. Madrid: Siglo XXI.
Mezzadra, S. i Neilson, B. (2017). La frontera como método, o, La multiplicación del trabajo. Madrid: Traficantes de sueños.
Ramírez-March, Á. i Montenegro, M. (2021). "Volem Acollir": Humanitarismo y Posiciones de Sujeto en la Articulación de la Solidaridad en Cataluña. Dados, 64. https://doi.org/10.1590/dados.2021.64.1.227.
Rose, N., O'malley, P. i Valverde, M. (2006). "Governmentality". Annual Review of Law and Social Science 2 (1): 83-104. https://doi.org/10.1146/annurev.lawsocsci.2.081805.105900.
Stierl, M. i Dadusc, D. (2022). The "Covid excuse": European border violence in the Mediterranean Sea. Ethnic and Racial Studies, 45(8), 1453-1474. https://doi.org/10.1080/01419870.2021.1977367
Tazzioli, M. i Stierl, M. (2021). "We Closed the Ports to Protect Refugees." Hygienic Borders and Deterrence Humanitarianism during Covid-19. International Political Sociology, 15(4), 539-558. https://doi.org/10.1093/ips/olab023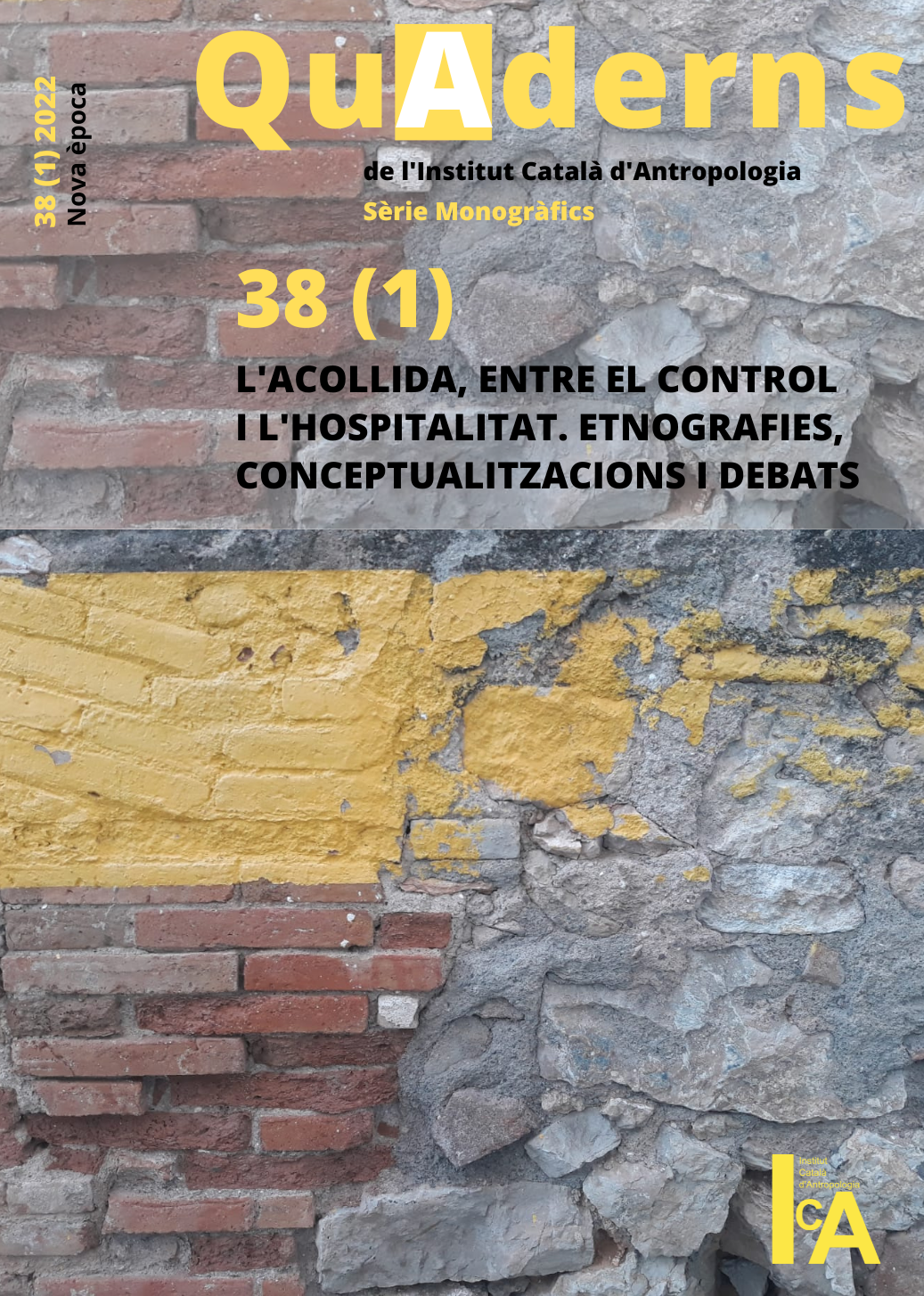 Descàrregues
Com citar
Martorell Faus, M. ., Ramírez-March, Álvaro ., & Rué, A. . (2022). L'acollida, entre el control i l'hospitalitat. Etnografies, conceptualitzacions i debats. Quaderns De l'Institut Català d'Antropologia, (38 (1), 1–8. Retrieved from https://publicacions.antropologia.cat/quaderns/article/view/391